The arrival of the holidays has a stressful note: pack your suitcase and decide what clothes to wear on summer vacation. It all depends on the destination: beach, mountains, tourism… one of the best tips is to bring as many clothes as possible that combine with each other and of course basics that are always necessary. Go choosing your destination and outfit, we bring you a dose of inspiration for your vacation looks .
What clothes to wear on summer vacation to go to the beach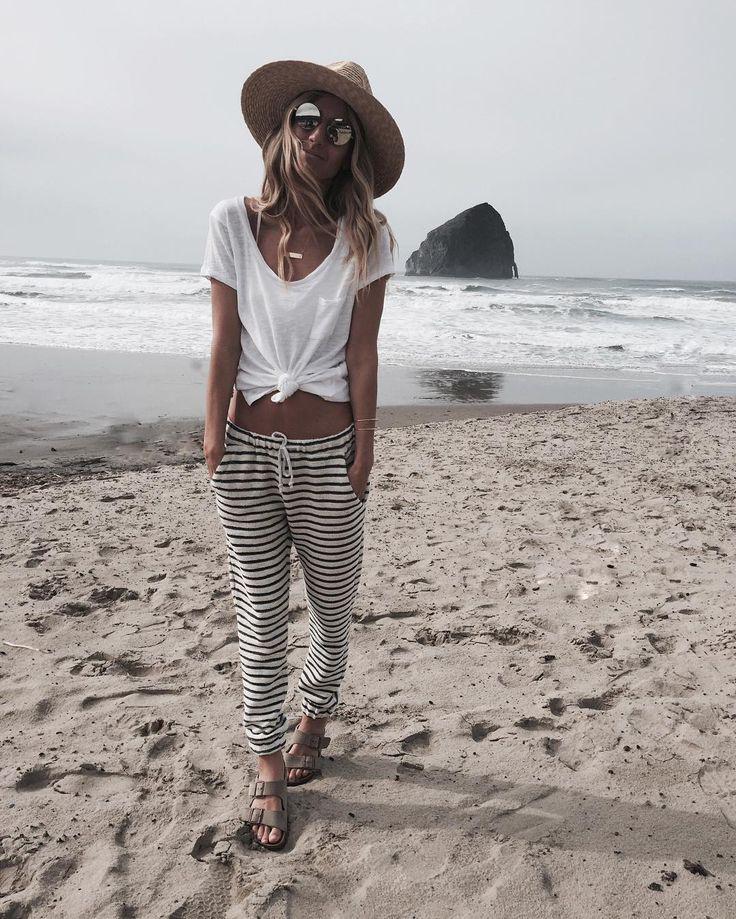 Image Source: stylevore.com
Beach clothes are lighter, smaller and therefore take up less space, so we have more space to store more clothes. The key is in swimwear and beach looks , since we spend the day in the water with sand or grass in between. For nights, it is enough to have a mini-dress, a maxi dress, a maxi skirt and a short with several tops to combine and achieve the greatest number of different outfits. Always include a denim jacket in case it gets chilly at night, easy to combine with all kinds of looks.
Swimwear: bikinis and swimsuits
Beach looks: little dresses, kaftans
Tiny dresses
maxi dresses
Skirt or shorts combinable with tops and t-shirts. Choose easy-to-match bottoms
Accessories: flip flops, wedges, sandals and a hat or hat to protect you from the sun
Denim jacket or sweatshirt for the cooler nights
What clothes to wear on summer vacations to go to the mountains
What clothes to wear on summer vacations if you go to the mountains? If your destination is in the mountains, the suitcase changes completely. For all those who have a town in the north or who like to get lost in cold areas, you cannot miss jeans, sweatshirts, a raincoat, short-sleeved shirts for the hottest hours and a black leather biker jacket that goes with everything. You won't have enough. As footwear, forget about sandals and bet on slippers. In the famous "just in case" you can include shorts, a tank top and not very high wedges.
T-shirt
Jeans
Sweatshirts
Black leather biker
fashion slippers
Oilskin
What clothes to wear on summer vacations for tourism
Image Source: stylevore.com
If the summer holidays you have chosen are a destination for tourism, the clothes you have to wear must be comfortable and fresh. Flowing dresses, with wide cuts, shorts and mini skirts combined with tops and basic tank tops. As for footwear, flat rubber sandals are the best choice so that cobbled floors do not get nailed. If you prefer lace-up sneakers, they are a possible alternative but they give more heat.
After a long day of sightseeing, the best option is to take a shower at the hotel and go out for a relaxed dinner. For this occasion, you can go for a maxi or midi dress, it is the star garment of summer nights, or a long button skirt with a puff sleeve top. Always accompanied by a cardigan or jeans in case the temperatures drop.
Basic tank tops
fluid dress
Shorts or mini skirt pants
maxi dress
Point's jacket
denim jacket
Long skirt with buttons
Sandals with a little rubber platform
Jungle prints, one of the most popular
Finally, we have one of the trends that has been best maintained in recent years; jungle prints. Forests, palm trees and tropical trees are what are usually printed on these prints, which, in addition to giving a more "easy going" or relaxed image, are currently in fashion.
Don't suffer when choosing a swimsuit, just follow one of these trends and show off at your favorite beach or club. In the same way, remember that with Aerosafin you do not have to suffer when traveling, since we have a wide variety of destinations so that you can enjoy your trip to the fullest on one of our private flights.